Guest Post
Because I write non-fiction, the characters in my books are real-life people. Sometimes I have to change their names, but they are real people with real stories. In my novelette,
My Magnificent Mountain
, I changed more than names. I changed colors of cars and made up some symbolic characters and life surrounding those characters. But the story was based on what really happened to me in my life.
A Woman's Power
, however, is completely factual. Oh, I take that back. I did change one person's name to protect her identity. But other than that, the stories in this wonderful book were shared by me and others, desiring to give hope and healing to readers.
I had MANY experiences writing
A Woman's Power
like the following. Here is an excerpt from the book.
When I was in the process of writing

Shattered: Six Steps from Betrayal to Recovery

, I had a remarkable experience with quiet communication from the Holy Ghost. At one point, I couldn't figure out what to write. I knelt and prayed for help. I so wanted to convey what the Lord would have in that book. At the conclusion of my prayer, I sat at my computer with my fingers on the keys, waiting for an answer. I waited for what seemed a long time before thoughts came into my mind. I thought,

"But this doesn't make any sense. It doesn't fit anything I've written."

After a few minutes, I knelt again in prayer with the same request as before. And again, when I sat at my computer, the same thoughts and feelings flooded my mind and I said,

"I don't understand. How does this fit?"

Now, I know memory can play tricks with you, but as I remember it, I repeated the process once again before I heard a definite but quiet voice in my mind say,

"If you're going to ask for revelation, don't you think you ought to write it down?"



I was startled, and quickly moved the keys to type what I had been told. More words came then, and I realized how they all fit together, not only for that chapter, but the next.


Book Summary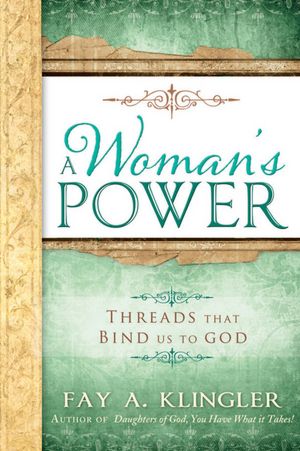 In today's chaotic world, most women feel like they're hanging on by a single, ever-fraying thread. But the gospel teaches us differently. As daughters of God, we're blessed with lifelines from above. All we have to do is reach up and grab hold of them. The author simply and beautifully illustrates which threads have the strength and power to carry women of virtue to safety, peace, and lasting happiness. This inspiring work will help you hold fast to the divinity within you, as you learn just how powerful a faithful woman can be.
Price: $15.99
Release Date: March 13, 2012
ISBN: 9781462110292
Dimension: 6 x 8.5
Pages: 144
Author Bio
Author and illustrator Fay A. Klingler is an award-winning creative and technical writer. An often sought-after motivational speaker for women's groups and radio and television audiences, her expertise includes betrayal recovery, blending families, and successful grandparenting. Her previous publications include
Shattered: Six Steps from Betrayal to Recovery; Daughter's of God, You Have What It Takes; The LDS Grandparents' Idea Book; My Magnificent Mountain; The Complete Guide to Woman's Time; Our New Baby;
and
A Mother's Journal.
Together, the Klinglers have twelve children and thirty-five grandchildren in their blended family. They reside in Draper, Utah.
Connect with Fay
Website
Facebook
YouTube