To enter giveaway, simply:
1) become a Google Friend Follower on the left sidebar
2) leave a comment with your email address
Win 2 poetry books!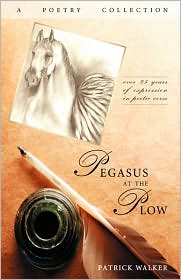 Pegasus at the Plow
by Patrick Walker
Over 25 years of expression in poetic verse
Born in Scranton, Pennsylvania on April 9, 1958, Patrick Joseph Walker has always been a seeker of truth in all things. His earliest perceptions of life were colored by familial devotion to Irish clan and the Catholic Church. An early scholar, he attended Scranton Preparatory School and was later accepted into the Special Jesuit Liberal Arts Program at the University of Scranton. During a hiatus from formal education, he worked as a staff writer for the Legislature in Saipan. When he returned to the United States, he was awarded a Philosophy Fellowship at Fordham University. Today, he "works" as an editor and proofreader of educational materials for a local correspondence college. His "real" work, however, involves studying the works of Blaise Pascal and Friedrich Hayek. He lives in Factoryville, Pennsylania, with his artist POSSLQ, Ginger Cody, her daughter Anna, and the family's two dogs, Lilly and Rosie.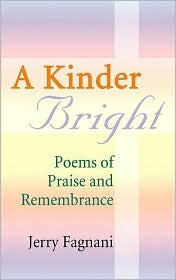 A Kinder Bright
by Jerry Fagnani
In this volume, Jerry Fagnani turns to poetry, and with A Kinder Bright, he has selected poems reflecting the great love that has influenced his life. All of this is most evident in The Elaine Collection. The Lackawanna Collection is a masterful work about the valley and county he embraces. This collection speaks to its rich texture and defines a perspective, often unseen by many, which shows how its seams of beauty infuse our very spirit. Finally, the whole work reveals to us an image of fierce loyalty and passion. Jerry has an unlimited commitment to his family with a love that is admirable.