"Waiting On" Wednesday is a weekly event, hosted here, that spotlights upcoming releases that we're eagerly anticipating.
This week's pre-publication "can't-wait-to-read" selection is: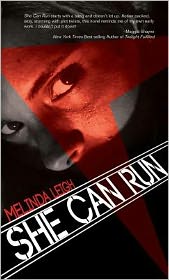 She Can Run
by Melinda Leigh
Publication Date: November 28
One bad decision turns Elizabeth Baker from a soccer mom into a fugitive. Five years after the death of her young husband, Beth marries a charming congressional candidate. But Beth accidentally learns a secret about her new spouse, a secret he'll kill her to keep. Now she and her children are running for their lives. She takes a job as caretaker on a secluded estate, but her plans to hide are complicated by the sudden death of her elderly boss and her attraction to the ex-cop with well-defined biceps, mussed hair and deep, dark chocolate eyes who inherits the property and becomes her new boss.
Still reeling from the accident that has him out of work as a cop, former homicide detective Jack O'Malley is blindsided by the death of his favorite uncle and the inheritance of a dilapidated mansion, complete with a suspiciously nervous caretaker and her two children. He is even more unprepared for the tug at his heart every time Beth enters the room. When Jack's instincts tell him something is wrong with his new employee, he begins to investigate. As he uncovers the shocking details of Beth's life, a local woman falls prey to a serial killer and Beth is the victim of a frightening attack. Jack resolves to keep her and the children safe—whatever it takes, if only he can figure out a way to win her trust.