This week's musing asks…

Will you be buying books for the holidays, this year? If so, for whom, and why?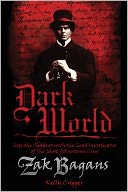 Absolutely! I'll be getting all of the latest books from TV's ghost hunters for my mom including
Dark World
by Zak Bagans from
Ghost Adventures
,
Destination Truth: Memoirs of a Monster Hunter
by Josh Gates and
Ghost Files
by Josh Hawes and Grant Wilson from
Ghost Hunters
.