"Waiting On" Wednesday is a weekly event, hosted here, that spotlights upcoming releases that we're eagerly anticipating.
This week's pre-publication "can't-wait-to-read" selection is: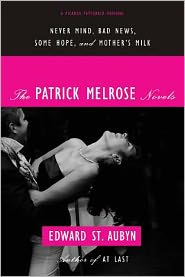 The Patrick Melrose Novels: Never Mind, Bad News, Some Hope, and Mother's Milk
by Edward St. Aubyn
Publication Date: January 31
Zadie Smith devoted her August 2011 Harper's essay to the five Patrick Melrose novels written by Edward St Aubyn, "the most brilliant English novelist of his generation" (Alan Hollinghurst). In February 2012, to coincide with Farrar Straus & Giroux's publication of AT LAST (the fifth and final novel of this extraordinarily ambitious cycle), Picador is thrilled to be publishing the first four novels in one beautiful volume: THE PATRICK MELROSE NOVELS.
By turns harrowing and hilarious, this unique novel cycle dissects the English upper class, painting an unforgettable portrait of the beleaguered and self-loathing world of privilege as we follow Patrick Melrose's story from child abuse, to heroin addiction, to recovery and middle age.
"Parental death, heroin, childhood rape, emotional frigidity, suicide, alcoholism... Nothing about the plots can prepare you for the rich, acerbic comedy of St. Aubyn's world or—more surprising—its philosophical density...Writing reviews you spend quite a lot of your time typing out the sentences of other people, i.e., quoting. Usually this is dull work; with St. Aubyn, it's a joy."—Zadie Smith, Harper's